Jun 21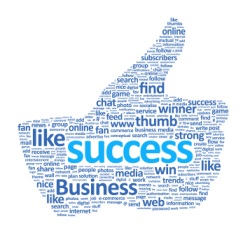 What is it really that makes you a "fan" of a brand or company on Facebook? Is it different than what makes you continue to be a fan of a business page? These are questions we deal with frequently in our line of work and and we often struggle to help clients understand that while both are of equal importance, capturing a "like" and keeping a "like" often require two separate (and sometimes diverging) strategies.
While studies have shown that that 40% of people "like" a company or brand on Facebook to receive discounts and promotions, it is important to understand what keeps a customer a fan of your page.
Consumers use Facebook to interact with friends, be entertained and express themselves. Thus, businesses need to engage consumers on Facebook in a way that keeps them entertained because it serves as an exceptional opportunity to mobilize fans, get introduced to their friends and potentially transform them into dedicated and loyal brand ambassadors.
In determining Facebook strategy, it is important to test out what works for your fan base on your page. Do so by experimenting with the time of day you post and monitoring what days and times receive the most interaction from your fans. Make sure you're checking your analytics to find out what fans are clicking on and what fans are hiding from their news feed.
Though Facebook can be a great tool for self-promotion and selling, it's important to be extremely careful about when and how you do so. You want followers to engage with your business, and if you're constantly promoting your business or selling, followers are not going to want to engage.
80/20 Basics

80% of the content you publish or share should pertain to things that really matter to your audience. The other 20% can be about your products, services, and promotions
Post tips or information about your industry. Ask thought leaders in your organization to provide tips for followers
Make sure to stay up-to-date on the news in your industry, and post relevant articles. Adding your own commentary when posting the articles is ideal
Ask your followers what they think. Getting their opinions on industry topics can not only provide you insight, it can also make them feel engaged
People don't want to get "sold" when they're browsing their Twitter and Facebook feeds. To some extent, we've all be conditioned to ignore this type of blatant sales content, subconsciously
Do you have partners or clients you work with regularly? Post news about their companies, and they will probably return the favor
What kind of content is best?
The key here is to develop a strategy that allows you to post creative, non-promotional content. Your fans and followers pay attention to powerful content, but the forms can vary. In all mediums, successful content can be funny, emotional, controversial, empathetic – aim for striking a chord with your followers. Above all, be genuine – post that which is in line with your brand voice, but relevant to your audience.
Rules of Thumb for Facebook:
Publish at least once daily (depending on the preferences of your fan base)
Check the engagement statistics – the number of Likes and comments are visible. Those with significant traction are pushed into other fans' News Feeds
Write content in a way that is proven to engage fans – ask questions, or solicit opinions
Apply the 80/20 rule – 80% of your content should be non-promotional. Strive to publish interesting, engaging content that your fans will find entertaining or helpful
Here is a great infographic we found about what makes people want to follow a brand:

Common Mistakes

Broadcasting
Ask any social marketing consultant what the number-one no-no is on Facebook, and they'll likely tell you it's "broadcasting" your messaging instead of providing fans with relevant content and engaging on a continual basis.
"With Facebook, marketers of any size can do effective, word-of-mouth marketing at scale for the very first time. But Facebook is all about authenticity, so if your company is not being authentic or engaging with customers in a way that feels genuine, the community will see right through it."
According to Andy Smith, co-author of "The Dragonfly Effect: Quick, Effective and Powerful Ways to Use Social Media to Drive Social Change," many businesses immediately ask how Facebook is going to make them money and have that be the focus, as opposed to trying to engage customers and provide a meaningful, authentic online experience. "Marketers need to recognize that people go to Facebook to make a connection or feel like part of a community," says Smith.
Being Predictable or Boring
When they're thinking about marketing, some business owners forget that Facebook is a social place where people share things they find funny, interesting or useful with their friends. Think about what kind of content your fans would actually want to share when planning your posts.
"Status updates by themselves get boring. But then again, so do photos, videos and multimedia as a whole. Your job is to mix it up. The moment you become predictable, boring or annoying, they'll hide you from their feed. So keep it varied and personal — a video here, a photo here, a tag of one of your fans here."
Failing to Learn About Facebook Mechanics and Tools
Since Facebook is a relatively new medium (to most people), some businesses have yet to explore all its functionality and they're missing out on creating an optimal brand experience.
Most companies upload a version of their logo, but the resulting thumbnail image that shows up in news feeds often only captures a few letters in the middle of their logo — this partial, meaningless image is then how they're branded throughout Facebook.
Facebook Insights, Facebook's built-in analytics system, is also often overlooked, and with it the opportunity to analyze post-performance to see what types of content gets the most engagement.
By following these tips your Facebook page fans will be "liking", commenting and sharing content on your page in no time.  Need help engaging your fans, increasing your likes or getting your social media plan off the ground?  Give us a call!  We can help with all your social media needs!
Follow us on Facebook to see how we do it:  www.facebook.com/thinktpi
Check out our website for more information: http://www.thoughtprocessinteractive.com/
Resources:
Webbed Marketing: The 80/20 Rule; November 2011.
FastBlink:  Marketing with the 80/20 Rule; March 2012.
Socialnomics:  Cutting Through the Noise with Engaging Content; June 2012.
Mashable: Top 5 Facebook Marketing Mistakes Small Businesses Make; April 2011.